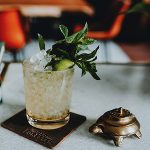 May 1, 2021 – While Old Forester's second annual "Kentucky Turtle Derby" has tongue firmly in cheek, this Bourbon-based variation on the Mojito is a serious cocktail.
1.5 ounces of Old Forester 86 Bourbon
0.5 ounce of fresh lime juice
0.5 ounce of simple syrup
6 mint leaves
Club soda, to top
Muddle the first 4 ingredients together in a cocktail shaker, then shake with ice.  Add club soda to the shaker, then pour into glass and garnish with a mint sprig.