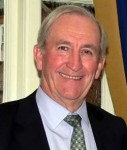 June 21, 2013 – There are few things that James Espey hasn't done in the whisky industry. He's one of the few people to hold high-ranking executive positions with both Seagram's (now part of Pernod Ricard) and United Distillers (now Diageo), helped create Johnnie Walker Blue Label, and founded the Keepers of the Quaich as a way to honor people for their service to the Scotch whisky industry.
Now, he's the one being honored for his service to the Scotch whisky industry. Espey was named an Officer of the Order of the British Empire by Queen Elizabeth this month in her annual Birthday Honours List. The Queen traditionally issues two Honours Lists annually, one at Christmas and one in June to celebrate her birthday.
Espey's latest venture, in addition to his management consulting practice, is Last Drop Distillers. Together with his partners, Tom Jago and Peter Fleck, Last Drop has been bottling rare casks of spirits as they uncover them. For more on their 1960 Blended Scotch whisky, listen to Episode 159 of WhiskyCast.

Links: Last Drop Distillers