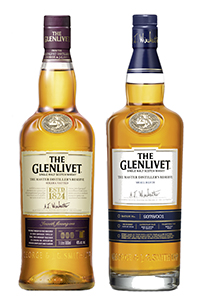 June 1, 2015 – Summer is bringing a bunch of new whiskies, with a special emphasis on travel retail offerings during the Northern Hemisphere's peak vacation season.
The Glenlivet is replacing its remaining age-statement single malts in the global travel retail market with two new additions to the Master Distiller's Reserve introduced in 2014. The Master Distiller's Reserve Solera Vatted blends malts matured in ex-Sherry, American Oak, and so-called "traditional oak" casks in a Solera-style vat. The Master Distiller's Reserve Small Batch uses first-fill ex-Sherry and American Oak casks along with the "traditional oak". Both versions will be available in travel retail outlets starting July 1 with recommended retail prices of $75 USD for the Solera Vatted and $150 USD for the Small Batch in one-litre bottles. The original Master Distiller's Reserve will continue to be available for a recommended retail price of $52 USD.
Also in the travel retail venue, Beam Suntory is launching two new exclusive bottlings and reviving a third from its Ardmore Distillery in Aberdeenshire. According to Michael Cockram, who heads up Beam Suntory's Global Travel Retail unit, fans of original Ardmore Traditional will cheer the debut of the Ardmore Tradition. In an email, he said the only difference is new packaging and a slight change to the name. Ardmore fans had lamented the phaseout of Ardmore Traditonal in retail markets after being the only Ardmore expression available for many years. Ardmore has been one of the few Highland distilleries regularly using peated barley for its malts, and the Tradition is matured first in American Oak barrels before final maturation in quarter-size casks. The similarities to Ardmore's cousins from Laphroaig are also evident in the new Ardmore Triple Wood, which like its counterpart from Laphroaig, is first matured in ex-Bourbon barrels, then for a time in quarter-size casks, and finally in ex-Sherry casks. There will also be a new 12-year-old Ardmore Portwood expression finished in Port wine barrels.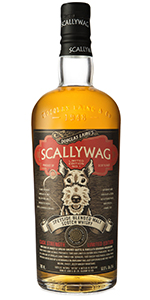 All three will come in one-litre bottles, with the Tradition carrying a recommended retail price of €40 ($43.75 USD) and the Triple Wood priced at €62 ($67.75 USD). Pricing for the Portwood expression was not immediately available. 
On the retail front, Douglas Laing & Co.'s Scallywag Speyside blended malt is named for a cute and cuddly fox terrier, but its new cask-strength version gives a louder bark. The limited-edition release is bottled at 53.2% ABV, with only 1,000 cases available worldwide.
In a news release, managing director Fred Laing described the packaging for the new release that matches the intensity of the whisky inside. "This Cask Strength Scallywag bottling makes the wee dog's eyes pop, his ears blow open and his monocle ping – but it will make your palate sing," he said. The Scallywag Cask Strength release will be available at whisky specialist retailers globally starting this month. Pricing was not announced.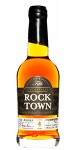 Finally, Phil Brandon's Rock Town Distillery in Little Rock, Arkansas is celebrating its fifth anniversary with the release of a 4-year-old "Bottled in Bond" Bourbon that will be available exclusively at the distillery starting on Saturday, June 20. While the whiskey uses the same mashbill as Rock Town's regular Arkansas Bourbon, the "Bottled in Bond" status means all of the whiskey was distilled during the same distilling season, matured for four years, and bottled at 50% ABV (100 proof). That day will also be filled with special activities and tastings at the distillery, which was the first legal distillery in Arkansas since Prohibition when it opened in 2010.
Editor's note: This story was updated with additional information on the Ardmore Tradition and Portwood releases.
Links: The Glenlivet | Ardmore | Douglas Laing & Co. | Rock Town Distillery