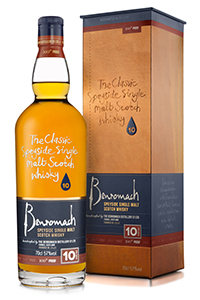 September 28, 2014 – Gordon & MacPhail is expanding the range of single malts available from its Benromach Distillery in Speyside with the release of Benromach 100 Proof. The name (and the whisky) are based on the old Imperial proof measurement, in which 100 Proof translates to 57% ABV. The whisky is a 10-year-old malt, and will use the same newly-designed packaging that made its debut earlier this year with the regular Benromach 10 Year Old expression.
Gordon & MacPhail has not specified which markets will receive the new expression first, but it is likely to make its debut in the UK and other European markets. Pricing has not been announced.
Meanwhile, Hunter Laing and Company has released its first new range since Stewart Laing founded the independent bottler following his split with brother Fred Laing last year. Highland Journey is a blended malt bottled at 46.2% ABV. As the name indicates, the malts used in the blend come from Highland distilleries. Pricing and availability are not available, but we expect more information on this whisky over the next several days.
Editor's note: This story was updated to correct an error. The Benromach 100 Proof is a 10-year-old whisky. 
Links: Benromach | Hunter Laing and Company