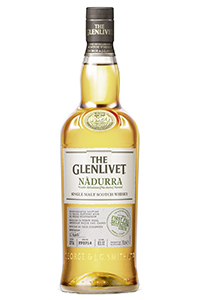 September 11, 2014 – While most of the news on new whiskies the past several days has come from Kentucky, Scotch whisky producers haven't been resting on their laurels. This week brings word of new whiskies from The Glenlivet, Compass Box, and Douglas Laing & Co.
The Glenlivet is adding to its Nàdurra range for the second time this year with the Nàdurra First Fill Selection, matured exclusively in first-fill ex-Bourbon barrels. As with the original Nàdurra releases and the Oloroso Cask Strength version released earlier this year, the expression lives up to the translation of Nàdurra from Gaelic as "natural" with no caramel coloring or chill-filtering. The First Fill Selection is bottled at 48% ABV, and will be available globally, including the UK, US, and Sweden, along with travel retail outlets at a recommended retail price of $75 USD. In addition, the Oloroso Cask Strength's availability will be expanded from travel retail to selected markets, including India, Taiwan, and Canada.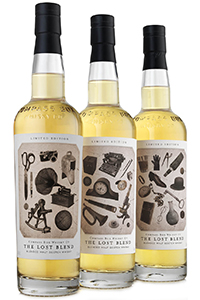 Compass Box will be releasing The Lost Blend October 1 in the US, Europe, and the UK. The blended malt is a throwback to one of the earliest Compass Box blends, Eleuthera, which was available from 2001 until 2004, when blender John Glaser could no longer get one of the three component malts used in the blend. The Lost Blend brings together Highland single malts from Clynelish and Allt-a-Bhainne with peaty Caol Ila malt from Islay, and is being bottled at 46% ABV with no chill-filtering. In keeping with the brand's reputation for quirkiness, three separate labels have been created around the theme of "lost things", and each case will contain a randomly-selected variety of the three labels. Around 12,000 bottles will be available at a recommended retail price of $120 USD.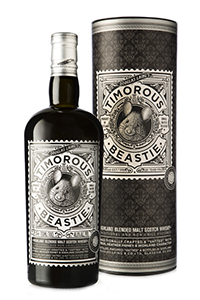 Finally, Douglas Laing & Co. is releasing a Highland companion to its Big Peat (Islay) and Scallywag (Speyside) blended malts. Timorous Beastie is blended by Fred Laing with malts from Dalmore, Glengoyne, Glen Garioch, and other distilleries. The name comes from the classic Robert Burns poem "To a Mouse", and the whisky is bottled at 46.8% ABV with no caramel coloring or chill-filtering. It will be available at whisky specialist retailers starting this month. Pricing has not been announced.
Links: The Glenlivet | Compass Box | Douglas Laing & Co.