June 26, 2013 – This week's update on new whisky releases starts with the second new single malt of the year from Talisker. Talisker Dark Storm (45.8% ABV) follows the release earlier this year of Talisker Storm, and is said to be the smokiest Talisker whisky on record. It will be available at travel retail outlets in Europe, Asia, and the Middle East with a suggested price of £42 (approximately $64.50 USD).
Meanwhile, Glenfiddich is expanding its Cask of Dreams series of single malts with a new release for the Scandinavian market.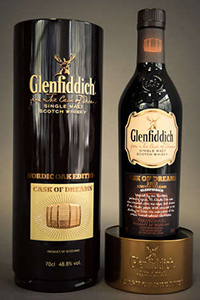 The Cask of Dreams Nordic Oak expression is said to be the first Scotch whisky ever to be finished in Nordic Oak casks. The Cask of Dreams project started in the United States in 2011, and invited whisky lovers to share their dreams with the world. It has since spread to other Glenfiddich markets around the world.
The Nordic Oak expression will be available primarily on Viking Line cruises, with some allocation for other travel retail markets and retailers in the Nordic region. No details on pricing have been announced.
Links: Talisker | Glenfiddich