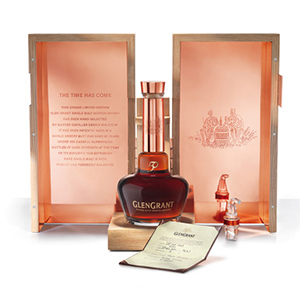 March 21, 2014 – Glenglassaugh and Glen Grant are unveiling new single malts in time for Spring, with a vintage malt from Glen Grant in Rothes and a rare peated malt from Glenglassaugh.
Glen Grant's longtime distillery manager, Dennis Malcolm, filled the cask that would eventually become the new Glen Grant 50 Year Old as a young distillery worker on October 28, 1963. 50 years and a few days later, that cask yielded just 150 bottles of whisky. In a news release, Malcolm described the whisky as a masterpiece.
"Only time measures our pursuit of perfection. Maturation cannot be rushed. Like people, casks mature at their own pace. I have protected and cared for this barrel for 50 years, letting it breathe and patiently waiting for the magic and interaction of whisky and wood."
The Glen Grant 50 comes in a Glencairn crystal decanter that replicates Glen Grant's pot stills, along with a hand-crafted Scottish Oak box. It will be available starting today at Hong Kong's airport, and soon at travel retail shops in Singapore, Seoul, Beijing, Shanghai, and Taipei airports. Whatever remains will be available in other markets starting in June. The whisky carries a recommended price of around £8,400 ($13,850 USD).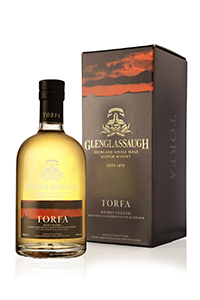 Glenglassaugh's Torfa is a change of pace for the distillery, which was acquired by the BenRiach Distillery Company last year. It is a "richly peated" no-age-statement single malt that will become the third expression in Glenglassaugh's core range alongside Revival and Evolution. The name is derived from the Old Norse word loosely translated by Scots as "turf" or "peat".
Torfa is being bottled at 50% ABV, and the distillery's Alistair Walker has confirmed that the whisky is exclusively from stocks produced since Glenglassaugh was reopened in 2008 after more than 20 years. It will be available globally through whisky specialist retailers at a recommended price of £41.99 ($69 USD).
Editor's note: This story was updated with additional information from Glenglassaugh.
Links: Glen Grant | Glenglassaugh