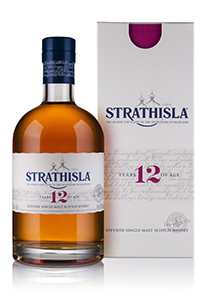 July 16, 2013 – Chivas Brothers has unveiled new packaging for its Strathisla 12 Year Old single malt. The new design includes a new bottle and label, replacing the ones in use for many years.
The label features one of the most unique elements of the Strathisla Distillery in Keith, its twin pagodas from the distillery's old malt kilns. The new packaging is now available in more than 25 markets where Strathisla is sold, including Europe and the travel retail market.
In a news release, Chivas Brothers International Brand Director Nikki Burgess said the goal was to keep Strathisla relevant in today's whisky market:
"Strathisla 12 Year Old has long been considered the connoisseurs' best kept secret as a rare malt whisky produced in limited quantities from a world famous distillery. We are confident that the fresh approach for Strathisla, an example of Chivas Brothers' continued commitment to innovation, will attract both adventurous and established whisky drinkers to the brand and the wider Chivas Brothers portfolio."
The new bottle will be available in 70cl and 1 litre sizes. It will not be available in the United States, where 750cl bottles are required by law.
Links: Chivas Brothers