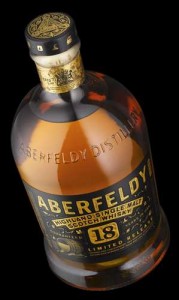 April 24, 2014 – Aberfeldy's single malts are the heart of the Dewar's range of blended Scotch whiskies, and the company is starting a major push for the brand with a new 18-year-old expression. The new malt will be rolled out this month in the travel retail market, joining the current 12 and 21-year-old expressions available at whisky specialist shops. It's bottled at 40% ABV, but pricing has not been announced.
The new look for the 18-year-old reflects Dewar's plans to invest in the Aberfeldy brand, and it will be carried over to the 12 and 18-year-old malts over the course of the year. Stephen Marshall of Dewar's told WhiskyCast's Mark Gillespie in a recent interview that the current Aberfeldy packaging hasn't been changed since the malts went on sale in 2003, and needs an upgrade.
In addition, Dewar's parent company Bacardi plans to expand availability of its Glen Deveron series of travel retail malts worldwide following last year's launch in selected markets. Both moves are being viewed as a first step expected to lead to additional single malt releases in the coming year.
Links: Dewar's