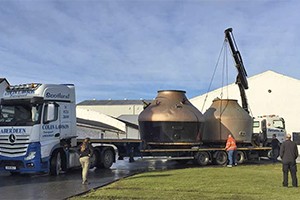 February 5, 2015 – For the last ten years, visitors to Islay's Bruichladdich Distillery have been greeted with an unusual sight…a huge still with a pair of Duncan McGillivray's old Welly boots sticking out of the top as part of the distillery's sign. Now, that still has been taken off the island with plans to put it back into service.
In a post on the distillery's blog, Bruichladdich announced that the still, along with another unused still that had been stored in nearby Port Charlotte, has been shipped to Forsyths in Rothes for refurbishing and repairs. From there, the stills will be shipped to Waterford, Ireland, where they will be used in former Bruichladdich managing director Mark Reynier's new Waterford Distillery. Reynier and his investor group acquired Diageo's mothballed Guinness Brewery in Waterford last year with plans to convert it into a distillery. Reynier noted on his Twitter feed that using the vintage stills will allow Waterford to begin production in January of 2016, two years earlier than would have been possible with brand-new stills. Reynier plans to have six new Forsyths stills in place at Waterford in 2021.
The stills were acquired when Bruichladdich bought pieces of the former Inverleven Distillery as it was being dismantled. In the blog post, Bruichladdich managing director Simon Coughlin said "there will of course be a touch of sadness at  the departure of what became an iconic symbol of the renaissance of Bruichladdich, but it is going to a good home and we hope that it can help in getting Mark's new Irish whiskey project into production sooner than would otherwise be the case.  We now have the enjoyable task of deciding what to do to replace it."
The second still that had been stored in Port Charlotte had been intended for use in the long-planned Port Charlotte Distillery that has been in the planning stages for many years. Bruichladdich has routinely renewed planning permits for the Port Charlotte project, but has yet to move forward with construction.
Editor's note: This story was updated with additional information and a photo provided by Mark Reynier. 
Links: Bruichladdich