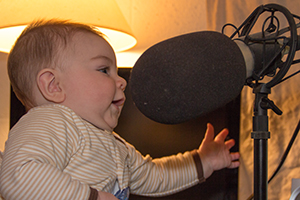 April 1, 2014 – CaskStrength Media is pleased to welcome a new host for WhiskyCast, as Hunter Smith will replace Mark Gillespie starting with this week's episode. Smith, an 18-month-old child prodigy, earned the position because of his appeal to a new generation of whisky consumers. In a news release, CaskStrength Media managing director Christina Philburn said the weekly show's new host will guarantee the long-term future of WhiskyCast.
"Mark's done a great job over the last nine years, but just as people today don't want to drink their grandfather's whisky, they don't want to hear about it from an old guy. Hunter's appeal stretches across all generations, and look at those cheeks! You just want to pinch them!"
While it is highly unusual for an 18-month-old to become a whisky journalist, Mark Gillespie pointed out that Hunter's family ties were a key factor in his selection. "We knew the kid had talent when he started experimenting with fermentation at 13 months by hiding bottles of apple juice next to the radiator. After a couple of weeks, they had a smell not unlike some young whiskies. True, he hasn't taken the next step to distilling anything yet, but the quality of his fermented spirit makes him a Master Distiller in my book. Plus, if you've ever changed one of his diapers, you know Hunter has peat in his DNA."
In the news release, Hunter Smith was quoted as being honored to take on the series of podcasts his grandfather created in 2005.
"Boppa baaa boo gaa, umm, ha, ha, ha. Boppa old, da da da."
(Translation: "Mark has worked hard for many years, and it is an honor to be asked to take on this responsibility.")
While there are no laws prohibiting minors from writing about distilled spirits, Hunter and the CSM management team have agreed that he will not publish whisky tasting notes for now. "It's probably not a good idea for the Whisky Fairies to visit Hunter before the Tooth Fairy does," CSM executive Aria Gillespie-Smith noted.