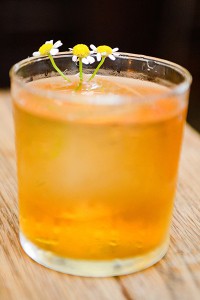 October 20, 2015 – Naren Young is a mixologist at New York's Caffe Dante, and created this take on the classic Old Fashioned. Thanks to Wild Turkey for sharing it with us.
2 ounces of Russell's Reserve 6 Year Old Rye
1/4 ounce of chamomile syrup
3 dashes chamomile tincture
Stir with ice and strain over fresh ice in a rocks glass. Spray with chamomile tincture.