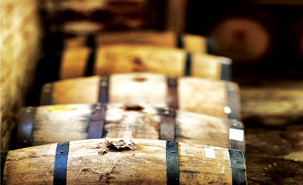 March 11, 2017 – The founders of Australia's Nant Distillery are fighting back against claims they took money from investors for more than 700 barrels of whisky to be filled – then never filled the barrels. The accusation came in a letter to Nant barrel investors this week from Australian Whisky Holdings CEO Chris Malcolm following an audit of barrels stored at the Tasmanian distillery. Australian Whisky Holdings acquired the Nant Estate last month from founder Keith Batt's Nant Group/NAW Parties, but a separate deal to acquire Nant's distillery equipment and intellectual property fell through – leading to a conflict between the two sides.
After Batt filed for personal bankruptcy at the end of 2015, he turned over all management responsibilities and his stake in Nant/NAW to his wife Margaret, who is not part of the bankruptcy case. However, Keith Batt has served as a spokesman for Nant/NAW this week in emails to WhiskyCast, and denied our request for an interview with Margaret Batt with a flat "no chance."
However, Nant/NAW issued a media release March 10 through the company's Facebook page, which the Batts continue to control. In that statement, they accused Australian Whisky Holdings of attempting to run "the business into the ground to create leverage to buy it for next to nothing." The publicly-held company took operational control of Nant Distillery in October 2016 as part of the original deal to buy the distillery, but that agreement was cancelled last month when the deal fell through. The founders charge that AWY (the Australian Stock Exchange ticker symbol for Australian Whisky Holdings) stopped distilling and bottling whisky, locked Margaret Batt out of the facility, did not pay creditors or provide accounting and excise records as requested.
"We no longer have access to our plant and equipment at the estate or the barrels and are unaware of the current contents of the bond stores or what AWY are doing with the barrels. AWY have not paid for the Nant Distillery business and should allow access to Barrel Investors and Nant so that we can get on with collecting barrels and our plant and equipment and recommence filling barrels and selling whisky."
The Batts claim in their news release that the production schedule they provided at the time included the production schedule for investor barrels to be filled, and noted that sales contracts specified that investor barrels would be filled as the distillery's production allowed. Investors purchased barrels at a set price, with Nant committed to buy them back after four years with a 9.5% compounded annual interest rate. The contracts also specified that interest would start accruing at purchase date – not when the barrels were actually filled. They also note that Nant had 600 empty barrels on site at the time of the October transfer to be used for ongoing production and investor barrels.
AWY's Malcolm told WhiskyCast in a March 2 interview that the sale agreement for the Estate also gave his company control over the bond store holding maturing barrels of whisky, along with the power to communicate with barrel investors. However, Nant/NAW insists the barrel management agreement has been terminated and AWY is not legally permitted to deal with barrel owners "without our consent."
WhiskyCast has contacted Malcolm to get AWY's response to the Nant accusations, and this story will be updated with additional information as necessary.
Links: Nant Distillery | Australian Whisky Holdings