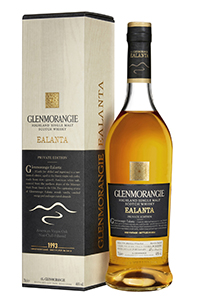 November 3, 2014 – Glenmorangie's 2013 Private Edition release, Ealanta, has been selected as the "world's best whisky" in Jim Murray's 2014 edition of the Whisky Bible. Ealanta topped Murray's ratings of 4,500 different whiskies around the world with a score of 97.5 points out of 100.
Translated from Gaelic as "skilled" and "ingenious", Ealanta was matured for 19 years in Virgin Oak casks from the forests of Missouri. It was bottled at 46% ABV, and Murray described it as "borderline perfection" in his tasting notes. In a news release issued by Glenmorangie, whisky creator Dr. Bill Lumsden described the award as validation for the research his team has done into the effects of wood on whisky.
"This is a wonderful award for us and testament to the ongoing success of our Private Edition range. It's no secret in our industry that it's the 'wood that makes the whisky' and for many years my team and I have been carrying out detailed research in this area."
Ealanta was released in limited amounts in early 2013, and may still be available through whisky specialist retailers. Mark Gillespie's tasting notes for Ealanta are available here.
Links: Glenmorangie | Jim Murray's Whisky Bible