February 8, 2016 – With the Lunar New Year bringing us the "Year of the Monkey" on the Chinese calendar, the team at William Grant & Sons' Monkey Shoulder Scotch Whisky passed along these cocktail recipes featuring the blended malt to celebrate the holiday. Of course, monkeys aren't native to Scotland, but the term "monkey shoulder" refers to the shoulder damage many distillery workers suffered after years of shoveling tons of barley on malting floors throughout Scotland.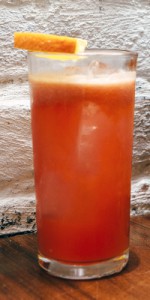 Award-winning bartender and brand ambassador Charlotte Voisey created this recipe for the "Year of the Monkey Shoulder:"
Mandarin Mule
1 ½ parts Monkey Shoulder
½ part fresh lime juice
¼ part simple syrup
2 parts ginger beer
5 raspberries
Muddle the raspberries, and add all ingredients except for the ginger beer and shake well. Double strain over fresh ice and top with ginger beer. Garnish with an orange half moon.
While Old Fashioneds are traditionally made with Bourbon or Rye, the brand supplied this recipe for their take on the classic cocktail:
Monkey Shoulder Old Fashioned
2 parts Monkey Shoulder
0.4 parts simple syrup
2 dashes Angostura bitters
Serve on the rocks.