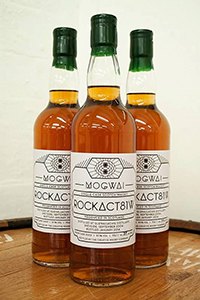 January 27, 2014 – In the peak of the Rock 'n Roll era, musicians just drank whisky. Now, they have their own whiskies.
Mogwai, the Glasgow-based indie band, has just released its own whisky to go along with its new album, Rave Tapes. The band's namesake whisky is a 9-year-old cask of Glenallachie single malt produced in conjunction with David Stirk's Creative Whisky Company. The whisky is bottled at 57.1% ABV, and will be on sale exclusively through the Good Spirits Company in Glasgow. It's quite likely that a few bottles will travel with the band as their European and North American tour gets underway this week.
The question is…can Mogwai become the first band to win a Grammy and a Malt Maniacs Award?
Links: Mogwai | Mogwai Whisky | Creative Whisky Company | The Good Spirits Company