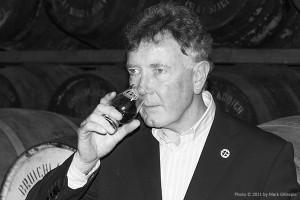 January 2, 2023 – "For contributions to the Scotch Whisky industry and the community on Islay."
Eleven words that describe a six-decade career in the whisky industry, but not nearly enough to describe Jim McEwan's career. McEwan was named a member of the Order of the British Empire (MBE) in King Charles's first New Year's Honours List along with Diageo CEO Ivan Menezes, who will be knighted for his services to the business community and equality.
"To receive an award like that completely floored me…I never ever, ever, ever, anticipated anything like that, McEwan said in a telephone interview with WhiskyCast. "I couldn't get in the store (this morning), everyone wanted to shake my hand," he said.
McEwan was notified of the award in a letter from Buckingham Palace on November 30, and he and his wife Barbara were sworn to secrecy until the announcement late Friday night (December 30). No date has been set for him to officially receive the medal in a ceremony.
"Without Barbara's help, I never would have done it…when I was traveling, she'd be home taking care of the kids, and when I came home, she'd put me back together again," he said. "Putting up with me for 57 years, that deserves a medal," he said with a laugh.
McEwan finally retired in 2021 after several tries that left him "pacing the cage like a tiger," ending a career that saw him go from an apprentice cooper at Bowmore Distillery on his native Islay to managing the distillery. In 2001, he was offered the chance to bring the mothballed Bruichladdich Distillery back to life and became its Production Director, teasing the most out of a cache of casks left behind by the previous owner to bring in much-needed cash while his team started laying down new make spirit that's now being bottled on the island today.
After he stepped down from Bruichladdich in 2015, he became the first master distiller for the island's newest distillery, Ardnahoe, while working on consulting projects as far away as Australia. Finally, after being featured in the documentary film "The Water of Life," Jim retired to spend more time at home with Barbara and his grandchildren.
"There's still life in the dog yet…I'm still running."