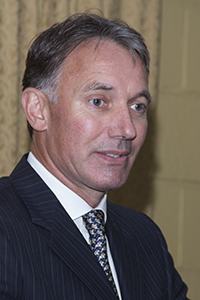 March 5, 2014 – Beam Inc. chief executive and president Matt Shattock won't be in Bill Ackman's league, but he stands to make a significant profit from Suntory's proposed $16 billion offer for the largest US-based spirits company. Ackman, who was Beam's largest shareholder through his Pershing Square hedge fund when the Suntory deal was announced on January 13, has been estimated by analysts to reap up to $700 million in profits from his stake in Beam. Beam shareholders are scheduled to vote March 25 on the offer, which is expected to close in April assuming regulatory approval in the European Union. Beam announced today that US regulators have given their approval to the deal.
Beam's 8-K disclosure form (NYSE: BEAM) filed this week with the US Securities and Exchange Commission shows Shattock, who became Beam's CEO in 2009 and guided the former Fortune Brands division through its Ackman-inspired breakup, holds stock options worth $29.4 million that would vest at the time of the sale. Shattock also owns $6.6 million in Beam shares outright, and is in line to receive around $4 million in performance-based stock awards.
Suntory has pledged that Beam's existing management team will remain in place after the acquisition, but Shattock is eligible for a "golden parachute" severance payment valued at $8.55 million if Suntory terminates his employment within two years after the deal closes.
The disclosure form shows Beam's senior executives could split nearly $110 million dollars between them in stock options, owned shares, and performance-based stock awards. Chief Financial Officer Robert Probst's package is valued at nearly $14 million, while Beam North America president Bill Newlands could net nearly $8.5 million. Both men are also eligible for "golden parachute" payments valued at around $2.6 million dollars. Albert Baladi, who heads Beam's EMEA (Europe/Middle East/Africa) unit, is eligible for a $2.2 million severance payment.
Stock options give the owner the right – but not the requirement – to buy shares at a pre-determined price that can be lower than the market price. However, Beam's filing indicates that the executive options will be converted into a cash payment equal to Suntory's offer of $83.50 per share.