March 29, 2013 – Former Bruichladdich managing director Mark Reynier is parting with 250 bottles from the very first cask filled at Bruichladdich after the distillery re-opened in 2001. "Wee Ruari" is named in honor of Ruari Reynier, who certainly holds the record for the youngest person ever to fill a cask of Scotch Whisky (with some help).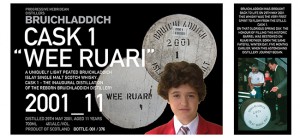 Ruari was 5 months old when he filled Cask #1 with the help of his parents and Duncan McGillivray on May 29, 2001, and Mark held back the cask for his personal collection.  Ironically, Ruari was born the same day his father's investment group completed the acquisition of Bruichladdich.
In an email, Mark Reynier described the cask:
"This is the first (and for me, the last) Bruichladdich. It is quite unique not least that it was somewhat 'accidentally' distilled from lightly peated barley (10-15 ppm), so a sort of in between Port Charlotte and Bruichladdich. It was some cock-up to do with not having ordered unpeated barley in time for the opening and so having to make do with what they had available at Port Ellen."
Reynier left Bruichladdich after the distillery's acquisition by Rémy Cointreau in 2012, and the cask was bottled in 2012 at 11 years of age (376 bottles). Mark Reynier has decided to make 250 bottles from the "Wee Ruari" cask available exclusively through Loch Fyne Whiskies at £250 ($380) each. The Reynier family will hold on to the remaining bottles.

Links: Loch Fyne Whiskies | Bruichladdich