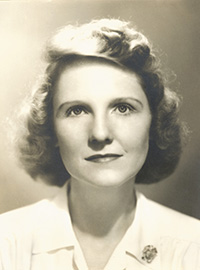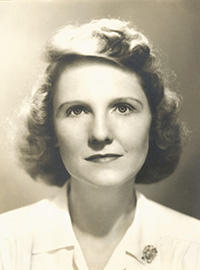 September 11, 2014 – Traditionally, the Kentucky Distillers Association keeps the names of its honorees for the Kentucky Bourbon Hall of Fame quiet until the induction ceremony each year during the Kentucky Bourbon Festival in Bardstown. However, the Class of 2014 includes just one inductee – and a history-making inductee at that. Margie Mattingly Samuels is credited with many of the innovations at Maker's Mark during its history, from the trademark red wax seal to the bottle design and even the whisky's name, will be the first woman inducted into the Hall of Fame for her work with a distillery. The induction ceremony will take place September 17 at the Bardstown Country Club.
In a news release, KDA President Eric Gregory called the selection of Margie Samuels "a historic moment that is long overdue."
"Mrs. Samuels was one of many women in our industry to be directly involved with creating and growing a legendary Bourbon brand. We are proud to honor Mrs. Samuels, and we applaud her monumental contributions that forever changed the way Bourbon is made and marketed. She transformed our industry, and we are eternally grateful."
"I think Mom would be surprised because she never really considered herself part of the business," Bill Samuels Jr. said during a telephone interview Friday. "She just would make these unbelievable pronouncements…at least in hindsight it seemed that way. She was a little bit on the strong-willed side, and Dad had enough sense to implement most of them, and it turned out brilliantly."
Listen to Mark Gillespie's interview with Bill Samuels Jr.:

Margie Samuels is often referred to as the co-founder of Maker's Mark along with her husband, T.W. "Bill" Samuels Sr. While Bill  oversaw the whisky's production in the early 1950's, she created the whisky's image and became one of the most influential women in whisky history. She grew up in the business around her father's Mattingly & Moore distillery in Louisville, and earned a chemistry degree from the University of Louisville in 1933. Four years later, she married Bill Samuels and moved to Bardstown's "Whiskey Row", where they lived next to Colonel Jim Beam and his wife Mary. They later moved to Star Hill Farm on the west side of Bardstown, where she worked on the bottle design, labels, and even the iconic typeface for the brand. She passed away in 1985.
Two of their three children, Bill Jr., Nancy, and Leslie went on to work at Maker's Mark, where Bill Jr. succeeded his father as president and ran the brand until 2011, when he turned it over to his son Rob, who runs the brand today. Margie and Leslie Samuels developed the first visitors center in the Bourbon industry in 1967. Bill Samuels Sr. was inducted posthumously into the Hall of Fame in 2002, a year after Bill Jr. was inducted in the Hall's inaugural class.
While Margie Samuels is the first woman to be inducted into the Hall for her work with a distillery, four other women have also been inducted for their work with the industry. Former Bardstown mayor and writer Dixie Hibbs was the first woman to join the Hall of Fame in 2004, Pamela Wood Gover (2005) and Mary Jane Dickerson (2009) were inducted for their work with the Kentucky Bourbon Festival, and Rita Lee Greenwell (2008) was selected for her years of service with the Kentucky Distillers Association.
Maker's Mark announced today that to celebrate the induction of Margie Samuels into the Kentucky Bourbon Hall of Fame, all visitors on September 17 who wear red and mention her name at the visitors center will receive complimentary distillery tours.
Editor's note: This story was updated with additional information and audio from our interview with Bill Samuels Jr.