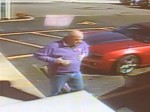 November 3, 2013 – The man shown in a surveillance camera video from a liquor store in Elizabethtown, Kentucky has come forward and met with investigators in the theft of $26,000 worth of Pappy Van Winkle whiskey.  Chris Pickett and his lawyer told Franklin County sheriff's deputies that he went into the store to ask about buying some Pappy Van Winkle Bourbon, not to sell it. Pickett was attending a wedding in South Carolina when investigators posted the video on YouTube, and arranged to meet with them when he returned to Kentucky last week.
Pickett is the principal at Bardstown High School, and while he described himself as a Bourbon collector, he told investigators he has never visited Buffalo Trace Distillery. His lawyer told the Lexington Herald-Leader that Pickett had been eating lunch at a restaurant across the street, and stopped in to see if the store had any Pappy available.
Approximately 65 cases (195 bottles) of Pappy Van Winkle's Family Reserve 20-year-old Bourbon and nine cases (27 bottles) of Pappy Van Winkle's Family Reserve 13-year-old Rye whiskey were stolen from a secured warehouse at Buffalo Trace Distillery in Frankfort. The whiskey was being prepared for shipment when the theft was discovered, and Franklin County Sheriff Pat Melton is working on the premise that the theft occurred over a period of several weeks by someone with access to the warehouse.  Melton has declined to comment on Pickett's statement, and says there are no new leads in the case.
UPDATE: On November 23, Sheriff Melton told the Lexington Herald-Leader that Pickett has been cleared as a potential suspect in the Pappy case.
Links: Old Rip Van Winkle Distillery | Buffalo Trace | Franklin County Sheriff's Department