May 9, 2013 – University of Louisville basketball coach Rick Pitino has had a pretty good year…so far. His Cardinals won the NCAA men's basketball tournament last month, and he was named to this year's class of inductees for the Naismith Memorial Basketball Hall of Fame. Now, he'll be featured on a Maker's Mark Bourbon bottle…for the second time. Pitino first appeared on a Maker's Mark bottle in 2002 as part of an annual series of bottles sold to raise money for the Boy Scouts.
Pitino's 2013 bottle will list his achievements over the years, including his second NCAA championship (his first was at the University of Kentucky in 1996). The bottle design has not been unveiled officially, but has been approved by the Treasury Department's Tax & Trade Bureau.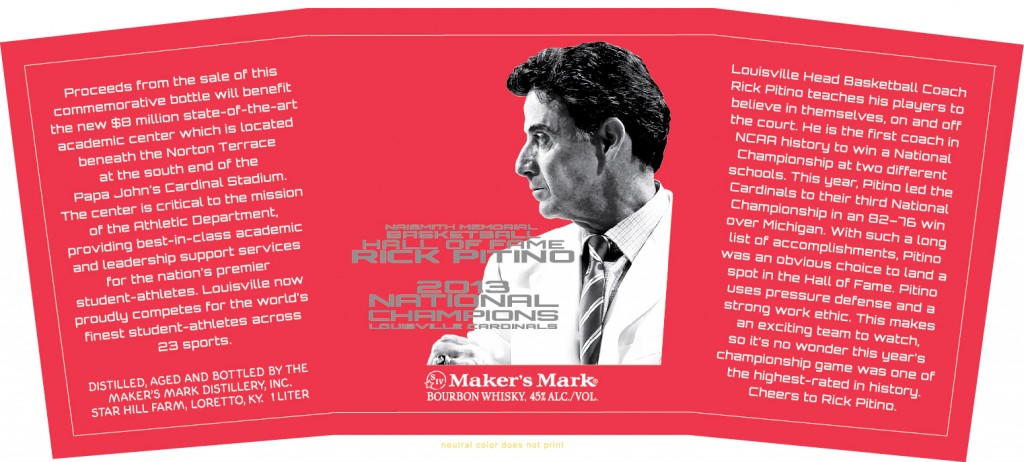 While the details have not been announced,  12,600 Pitino bottles will be available. Proceeds from the sales will go to the University of Louisville's proposed Academic Center for Excellence, which will provide support services for the University's student-athletes. Maker's Mark has pledged $500,000 toward the center,  which will be built at Papa John's Cardinal Stadium. This is the second of three bottles that will benefit the center, with Louisville football coach Charlie Strong being featured on the first bottle. No plans have been announced for the third bottle in the series.