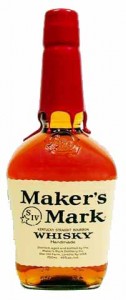 In what may well be the first major change to its flagship bourbon since Bill Samuels Sr. perfected his recipe for Maker's Mark in the 1950's, the distillery plans to reduce the bottling strength of Maker's Mark to 42% ABV in an attempt to stretch existing supplies to meet demand.  The distillery has been trying to expand production for years, but with a lead time of around 6 years between adding production capacity and being able to bottle the final product, reducing the ABV was the final possible step, according to Maker's Mark Chief Operating Officer Rob Samuels and Chairman Emeritus Bill Samuels, Jr.

In this email to Maker's Mark Ambassadors, they outlined the reasons for the change:
Dear Maker's Mark® Ambassador,

Lately we've been hearing from many of you that you've been having difficulty finding Maker's Mark in your local stores. Fact is, demand for our bourbon is exceeding our ability to make it, which means we're running very low on supply. We never imagined that the entire bourbon category would explode as it has over the past few years, nor that demand for Maker's Mark would grow even faster.

We wanted you to be the first to know that, after looking at all possible solutions, we've worked carefully to reduce the alcohol by volume (ABV) by just 3%. This will enable us to maintain the same taste profile and increase our limited supply so there is enough Maker's Mark to go around, while we continue to expand the distillery and increase our production capacity.

We have both tasted it extensively, and it's completely consistent with the taste profile our founder/dad/grandfather, Bill Samuels, Sr., created nearly 60 years ago. We've also done extensive testing with Maker's Mark drinkers, and they couldn't tell a difference.

Nothing about how we handcraft Maker's Mark has changed, from the use of locally sourced soft red winter wheat as the flavor grain, to aging the whisky to taste in air-dried American white oak barrels, to rotating our barrels during maturation, to hand-dipping every bottle in our signature red wax.

In other words, we've made sure we didn't screw up your whisky.

By the way, if you have any comments or questions, as always, we invite you to drop us a line at (removed) or (removed). Thanks for your support. And if you've got a little time on your hands, come down and see us at the distillery.

Sincerely,

Rob Samuels
Chief Operating Officer
Ambassador-in-Chief

Bill Samuels, Jr.
Chairman Emeritus
Ambassador-at-Large
It's not clear how soon bottles with the 42% ABV version of Maker's Mark will be available, but it's likely that they will be sent to retailers and bars as existing supplies are depleted.