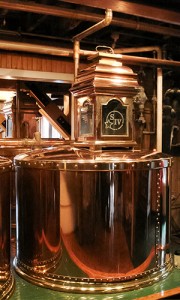 June 11, 2014 — Maker's Mark is working on a limited-edition cask-strength version of its popular Bourbon, with plans to make it available for sale at the distillery this autumn.  In an email to members of the Maker's Mark Ambassadors affinity group, president Rob Samuels acknowledged that it will be testing the new version with selected bartenders this summer.. The distillery has often given special guests a chance to taste Maker's Mark drawn straight from the barrel, and Samuels told WhiskyCast's Mark Gillespie in a telephone interview June 16 that the idea came from a discussion with his father, Bill Samuels, Jr.
"I lobbed the idea that wouldn't it be interesting, a nice complement to what we do, to first make available Maker's Mark at barrel proof or cask strength only in Loretto with our friends. What we're seeing is a huge surge in visitors, and most all of them are coming from outside the region…so these are folks that have a huge real interest in soaking up the uniqueness of what we do, and ultimately as a distiller, you are who you are when your whisky flows directly out of the barrel."
Listen to Mark Gillespie's entire interview with Rob Samuels:

The announcement comes after last week's TTB label approval for the new version, which was noticed by observers tracking the agency's online label approval registry. The label submission lists the ABV for the new version at 50% ABV, but the Ambassadors email indicates that the bottling strength for each batch will vary from 54% to 57%. Distillers are allowed to change the actual bottling strength on a label without submitting revised applications for approval.
The announcement comes 16 months after Maker's Mark tried to reduce the bottling strength of its Bourbon from 45% ABV to 42%, citing a shortage of maturing casks and the need to stretch inventory to meet demand. The decision was reversed within a week after a social media-fueled outcry from the brand's fans, but approximately 30,000 bottles of the lower-proof Maker's Mark made it to retail outlets before the change in plans. During the interview, Samuels said the limited availability of the cask-strength version makes it feasible to produce without having an impact on production of the standard Maker's Mark and Maker's 46 expressions. He also cited the consumer response to the bottling strength change as part of the reason behind the new offering, noting that there have been numerous consumer requests over the years for a cask-strength version. However, he stressed that it will likely never become a mainstream product. "I envision that even if there's a huge surge in demand, which there very well could be, that it would always be very, very limited," he said. "We just don't have the supply to be everywhere, behind every bar in the world."
Maker's Mark is beginning a $70 million expansion project that will increase the distillery's capacity by 50% in coming years. Construction on new access roads and parking for visitors is expected to begin next month, and a stillhouse expansion is scheduled to be completed in the summer of 2015. Beam Suntory has also acquired additional land in Loretto for maturation warehouses, with plans to build at least two new warehouses for the next seven or eight years, according to Samuels.
Pricing for the Maker's Mark Cask Strength has not been determined. It will likely go on sale at the distillery's visitors center in mid-September in time for the annual Kentucky Bourbon Festival.
Editor's note: This story was updated on June 16 following an interview with Rob Samuels. 
Links: Maker's Mark