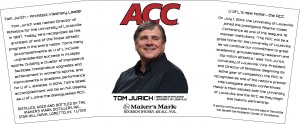 July 22, 2014 – Maker's Mark plays both sides of the Bluegrass State rivalry between the University of Kentucky and the University of Louisville down the middle, releasing Kentucky-themed commemorative bottles annually to benefit the University's Gill Heart Institute and Louisville-themed bottles to support the Cardinals' Academic Center of Excellence student-athlete support center. Of course, both colleges have had their share of NCAA Championship commemorative bottles as well. However, the latest Cardinal commemorative coming out of Loretto honors a man who works in the shadows of Louisville basketball coach Rick Pitino – even though he's Pitino's boss.
Louisville athletic director Tom Jurich will appear on the third bottle in the annual series of Maker's Mark Cardinal commemorative bottles. Jurich has been in charge of the university's athletic program since 1997, and helped mastermind the university's departure from the Big East for the Atlantic Coast Conference this year. The previous bottles in the series honored former Louisville football coach Charlie Strong, now the head coach at Texas, and Pitino's induction last year into the Naismith Basketball Hall of Fame.
8,500 one-liter bottles with the Jurich label will be available at retailers in Kentucky and Southern Indiana starting Friday, July 25. Jurich, Maker's Mark President Rob Samuels, Chairman Emeritus Bill Samuels Jr., and Master Distiller Greg Davis will appear at a bottle signing scheduled for August 13 at the KFC Yum! Center in Louisville. Tickets for the signing will go on sale July 30, and details are available through the Cardinals' web site.
Links: Maker's Mark | University of Louisville Athletics