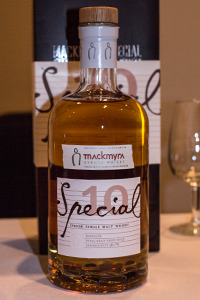 May 13, 2013 – Sweden's Mackmyra Distillery has released the 10th and final single malt in its "Specials" series of limited-edition whiskies. Special #10 is a coffee-influenced whisky created by Mackmyra's master blender, Angela Forsgren D'Orazio, that had its genesis in a whisky liqueur she created last year.
"I was playing with some freshly roasted coffee beans, espresso coffee beans. I was throwing them into whisky, and I just realized that was a very good harmony, the coffee and the whisky together," she told WhiskyCast's Mark Gillespie Saturday (May 11) in Toronto. "I did some coffee whisky with the espresso beans, and then I took that coffee whisky — that was simple, it was just macerating the coffee beans in some very good mature whisky for some hours…I took out the beans and took that coffee whisky and seasoned some casks with it for a couple of weeks."
Those casks were then used to finish the whisky for Special #10, while the coffee-infused whisky went into Mackmyra's liqueur. Special #10 will be available in Sweden and most of Mackmyra's export markets.
For more of our interview with Angela Forsgren D'Orazio, listen to Episode 424 of WhiskyCast.

Links: Mackmyra