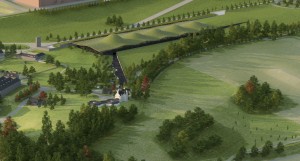 August 5, 2014 – As expected, Moray Council members have given the green light to Edrington's plans for a £100 million ($168 million USD) expansion at the Macallan Distillery in Speyside. The decision clears the way for construction to begin within the next six weeks, according to Edrington director of single malts Ken Grier, with completion expected in 2017 on an all-new distillery and visitors center that will be built near the current distillery.
"It's a very exciting time for The Macallan, and it's a great testament to the power of single malt Scotch Whisky around the world and its growth," Grier said in an August 8 telephone interview with WhiskyCast's Mark Gillespie. The project is being designed by the renowned London-based architects Rogers, Stirk, Harbour and Partners, and will be built with much of the distillery below ground level and topped by a series of rolling grass-covered hills to mimic the surrounding landscape.
"We believe in doing things that are incredibly beautiful, stuff that nobody else has done, and obviously things that really are all about extreme quality and real mastery, and of course, working with Rogers, Stirk, and Harbour – this is the first time ever in the industry that anyone has actually designed and will build a named architect-designed distillery."
Listen to Mark Gillespie's interview with Ken Grier:

Speyside-based contractors will handle most of the engineering and management work once construction begins. Forsyths of Rothes will build the distilling equipment, while Robertson Group will serve as general contractor on the site. No estimates on the local economic impact of the project have been announced, but the construction work is expected to create a significant number of jobs, while increased visitor traffic once the distillery is completed is likely to create a long-term economic impact.
"You'll get people from all over the world wanting to visit this iconic architectural masterpiece," Grier said. "Graham Stirk, the partner at Rogers, Stirk, & Harbour who designed it, has done a phenomenal job in producing something in some ways, we think, is very much like the Carrousel du Louvre standing next to the Louvre…you've got some incredible architecture merit with a real legacy , and yet, always your eye will be drawn back to Easter Elchies House, and of course, the River Spey."
The current distillery produces 9.5 million litres of spirit each year, while the new distillery is expected to have a capacity of 15 million litres.  Edrington intends to mothball the existing distillery once the new one is completed, with plans to keep it ready to return to production should additional capacity be needed in the future.
Editor's note: This story was updated on August 8 to include quotes and audio from our interview with Edrington's Ken Grier.  
Links: The Macallan | Edrington