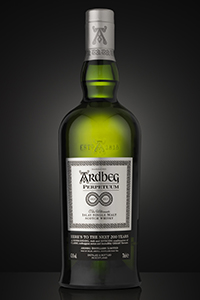 May 18, 2015 – Islay's Ardbeg Distillery will celebrate its 200th anniversary later this month during the Islay Festival of Malt & Music, and while the celebrations will look ahead to the next 200 years, Dr. Bill Lumsden couldn't rely on that to create this year's limited-edition Ardbeg Day release. Instead, he looked back to many of the special releases he's created for Ardbeg since he started working with the distillery in 1997 to create Perpetuum.
"Obviously, I couldn't bottle something that I haven't yet made, but may make over the next five to ten years," Lumsden said in a telephone interview. "What I did was to celebrate the history of the distillery – the very checkered history of the distillery…I put together a mélange of many different types of whisky."
"There is the classic ex-Bourbon barrels, there are sherry casks…more than one type of sherry…there's Oloroso, there might even be a little bit of PX in there, but there's definitely Manzanilla a la Ardbog. There's a little frisson of Alligator because I didn't bottle out every single cask I had for that. There is some new French Oak, i.e., the heart of Corryvreckan, and one or two other things…"
Dr. Bill Lumsden discusses Ardbeg Perpetuum:

In addition, Lumsden believes Ardbeg lovers who found Auriverdes and Galileo, the two previous limited-edition releases, perhaps too delicate will be pleased with Perpetuum. "I've tried to make a whisky which has that classic Ardbeg punch to it," he said. There will be two different bottlings of Perpetuum: the Ardbeg Committee release also available at the distillery and bottled at 49.2% ABV, and the retail version to be available May 30 worldwide in limited quantities at 47.4% ABV at a recommended US retail price of $100.
Editor's note: Mark Gillespie's tasting notes for Ardbeg Perpetuum are available here. 
Links: Ardbeg