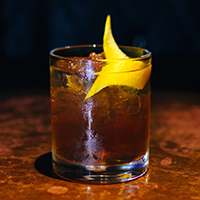 March 13, 2016 – New York City bartender Tyson Buhler created this St. Patrick's Day-themed cocktail for Laphroaig using the Laphroaig Select Islay single malt.
1 1/2 parts Laphroaig Select
1/4 part Sarsaparilla Syrup
2 dashes of Angostura Bitters
Orange twist
Combine ingredients in a rocks glass with ice. Garnish with orange twist.