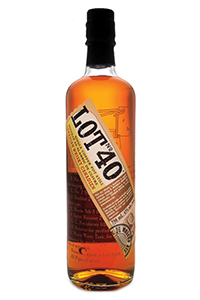 January 14, 2016 – While Crown Royal's Northern Harvest Rye may be the most-discussed Canadian Whisky in recent memory, Corby's Lot No. 40 beat out Northern Harvest Rye and nearly 60 other whiskies to take top honours in the 2015 Canadian Whisky Awards tonight. It's the second time in the last three years that the 100% rye whisky has been named Canadian Whisky of the Year, winning the award in 2014 and narrowly losing out to Brown-Forman's Collingwood 21 last year.
"I was absolutely stunned, but it's fantastic…I know there's a lot of employees at our site – there's 350 of us that work very hard every day to make Lot 40 a very consistent, very spicy, very great rye whisky," said Corby Spirit & Wine master blender Dr. Don Livermore after accepting the award. Livermore revived the Lot No. 40 brand several years ago using a mix of 90% unmalted and 10% malted rye in the pot stills at Corby's Hiram Walker Distillery in Windsor, Ontario.
"It's like the Canadian equivalent of an Islay single malt," according to Canadian Whisky Awards founder Davin de Kergommeaux. "It is a big, bold punch in the face of rye flavor…it's just like rye bread, German rye bread, sour rye bread, and then it's got all those dark fruits in behind…it's only 43% (ABV), but it feels like a high-strength whisky." De Kergommeaux and nine other judges (including WhiskyCast's Mark Gillespie) judged the entries in blind tastings during November and December, with the presentation coming tonight at the start of the Victoria Whisky Festival.
In addition to the overall award for Lot No. 40, Livermore also accepted the Best New Whisky award for the 2015 revival of Gooderham & Worts inspired by the legendary distillery in Toronto, as well as the Award of Excellence for Innovation for J.P. Wiser's Hopped Whisky. While most other hopped whiskies are made by adding hops during the fermentation process, Livermore decided to experiment with the "dry hopping" process used by many breweries and added the hops to mature spirit. "We believe it's a game-changer, and if you look at the hops themselves, this will just open up an entire different field of whisky in what we can do and bring to the table…we're very proud of that whisky as well," Livermore said.
Other top award winners included Canadian Club Chairman's Select 100% Rye, which was named the overall "Sippin' Whisky of the Year". Fountana Beverage's new version of Canadian Rockies 21 was honored as the Best New Line Extension after the company took its 40% ABV version sold in Taiwan and tweaked it for sale in Canada by raising the strength to 46%.  Still Waters Distillery in the Toronto suburbs received the Award of Excellence for Artisanal Distillery of the Year.
"More and more good Canadian whiskies are coming to light, and people are learning about these, and we're getting tighter and tighter competition each year," said de Kergommeaux, author of "Canadian Whisky: The Portable Expert" and regarded as one of the leading experts on Canadian whiskies. Kergommeaux cited the success of 100% rye whiskies such as Lot No. 40 and the Canadian Club Chairman's Select 100% Rye not just in the competition, but in the marketplace. Lot No. 40 is becoming more widely available outside of Canada, with exports to the US, Australia, and other markets. While the Canadian Club Chairman's Select has so far only been available in Canada since its launch in October of 2014, Beam Suntory's Tish Harcus confirmed after the ceremony that the company plans to start exporting it during 2016. The US, which has traditionally been the largest export market for Canadian Whisky, will be the first to receive exports of the whisky.
"The consumer interest in whisky itself is phenomenal…everybody in the whisky business is energized by that…it's breathing new life into the business and it's also driving people to be innovative and creative," said Spirits Canada CEO Jan Westcott. He notes, though, that the benefits of that innovation may not be seen for several more years while the whiskies being distilled today mature. "Some of the best whiskies that we're going to taste are going to be in five, six, seven, or eight years from now as we're just laying the stuff down," he said.
Complete results are available at CanadianWhisky.org.
Links: Canadian Whisky Awards | Lot No. 40 | Corby Spirit & Wine | Canadian Club | Canadian Rockies | Still Waters Distillery | Spirits Canada | Victoria Whisky Festival