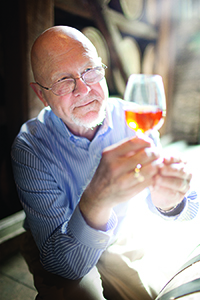 September 11, 2013 – Lincoln Henderson, the longtime Master Distiller at Brown-Forman and creator of Angel's Envy Bourbon, passed away Tuesday night in Lexington, Kentucky at the age of 75. He spent 40 years at Brown-Forman, and led the team that created Woodford Reserve Bourbon, Gentleman Jack, and Jack Daniel's Single Barrel whiskies before retiring from the company in 2004. He was a member of the inaugural class of the Kentucky Bourbon Hall of Fame, and received Malt Advocate's Lifetime Achievement Award.
In a statement on the Angel's Envy Facebook page, Lincoln's colleagues paid tribute to him:
We often refer to Lincoln as a malcontent. Professionally, that's true. He was a restless creator. Personally however, you would be hard pressed to find a happier, more gracious man. We will remember his warmth, his humor, and above all, his kindness. We treasure having had the opportunity to work with him on his last great endeavor. And we will carry on with the lessons he's taught us. Today, we have truly lost a legend.
After retiring from Brown-Forman, Lincoln worked as a consultant and brand ambassador for Suntory. During Episode 68 of WhiskyCast, Lincoln led listeners on a tasting of the Suntory whiskies.
In 2006, Lincoln teamed up with his son Wes, grandson Kyle, and a group of investors to start the process of creating Angel's Envy, a port wine-finished Bourbon that rapidly won wide acclaim. While the original whiskey was sourced from another distiller, Henderson's touch was clearly felt in the port cask finish that earned Angel's Envy numerous awards when it was released in 2010. The trio later released a rye version of Angel's Envy, and broke ground earlier this year on the site of a new distillery in downtown Louisville to become the home of Angel's Envy. In June, Angel's Envy Cask Strength was named the "Best Spirit in the World" by F. Paul Pacult of The Spirit Journal.
While Wes Henderson serves as the Chief Operating Officer of Angel's Envy (and the Louisville Distilling Co.), Kyle has been following in Lincoln's footsteps and learning the art and science of whiskey production from his grandfather.
Our condolences go to the entire Henderson family.
Links: Angel's Envy