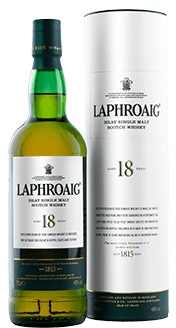 Updated September 11, 2015 – Laphroaig's 18-year-old Islay single malt will be fading into history soon, just as peat smoke gradually fades away. Beam Suntory has confirmed that the 18-year-old expression will be discontinued once current retail stocks have been depleted. The 18-year-old was introduced in 2009, and replaced the popular 15-year-old Laphroaig in the distillery's range.
"We just don't have the stocks…we've been using it on the 10-year-old," distillery manager John Campbell said today in a telephone interview, noting that while no new batches are being produced, some markets will have the remaining inventory longer than others because of contractual commitments.
While Laphroaig revived the 15-year-old earlier this year as part of the distillery's 200th anniversary celebration, a company spokesperson confirmed to WhiskyCast Thursday that the 15-year-old will remain a limited-edition offering and not be available at retail once the anniversary bottling runs out. That was the original plan when the 15-year-old release was announced, and despite rumors that the 15 would be a replacement for the 18-year-old, there are no plans to keep producing either expression. That leaves the Laphroaig 10-year-old as the only regular expression with an age statement, though the distillery does release limited amounts of a 25-year-old single malt annually. The Beam Suntory spokesperson suggested that new expressions will be coming in 2016, but declined to offer specifics.
Earlier this week, Laphroaig announced the launch of a limited-edition 16-year-old bottling for the travel retail market as part of the anniversary celebration. It should be noted that the distillery decided to bottle that expression in 350ml bottles instead of the standard 700ml or 1-litre bottles used for other Laphroaig travel retail expressions.
Editor's note: This story was updated on September 11 following a telephone interview with John Campbell. 
Links: Laphroaig