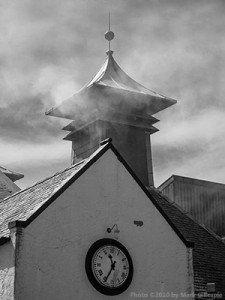 August 22, 2013 – For the last several years, Laphroaig distillery manager John Campbell has hosted a live webcast every autumn from somewhere in the world with a connection his distillery. Previous "Laphroaig Live" events have come from Maker's Mark Distillery (where Laphroaig sources its Bourbon casks from), Germany, Australia, as well as the distillery on Islay. This year, John is bringing the show to Brooklyn, New York on September 26, with the event to take place on a vintage Hudson River barge.
John's guests this year will be Beam Bourbon Ambassador Adam Harris, Michael Neff of New York City's Ward III whisky bar, and GQ web editor Kevin Sintumuang. They'll be tasting cocktails, along with the Laphroaig Quarter Cask, Laphroaig QA, Cairdeas 2013, and Maker's Mark.
The event will be available at the Laphroaig Live web site starting at 8:00pm New York time (GMT -5).
Links: Laphroaig