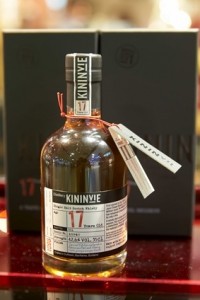 July 23, 2014 – William Grant & Sons has released a new batch of Kininvie single malt, and once again, Taiwan is the launch market for the 17-year-old expression. Last October, the first official release of Kininvie on record made its debut in Taiwan as a 23-year-old malt. Unlike that initial bottling, though, the 17-year-old will be available in other travel retail markets around the world.
Kininvie was the "secret distillery" on the William Grant & Sons campus in Dufftown that is home to Glenfiddich and The Balvenie. Kininvie had its own stillhouse, but shared mash tuns and washbacks with The Balvenie, and has been used occasionally as needed to produce malt whisky for use in the Grant's blends. Until last October's release, malt from Kininvie had never been bottled as a single malt, though a small amount was bottled under the Hazelwood label for the limited-edition whiskies honoring the late Janet Sheed Roberts, the last surviving granddaughter of William Grant.
The 17-year-old release is a blend of 80% ex-Bourbon barrels and 20% ex-Sherry casks, and has been bottled in 375ml bottles at 42.6% ABV. Pricing was not announced.
Links: William Grant & Sons