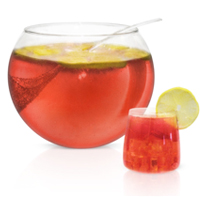 June 19, 2013 – This recipe supplied by Kilbeggan can be served either as an individual drink or in a punch bowl:
2 parts Kilbeggan Irish Whiskey
1 part DeKuyper Apricot Brandy
1 part cranberry juice
2 parts champagne
1 lemon wheel (thinly sliced)
To serve as a cocktail: Build all ingredients over ice in a stemless red wine glass. Garnish with a lemon wheel.
To serve as a punch: Double the recipe and multiply by the number of guests you plan to serve. Add Kilbeggan Irish Whiskey, DeKuyper Apricot Brandy and cranberry juice to a punch bowl, stir and refrigerate. When guests arrive, add champagne and lemon wheels. Serve over ice in stemless red wine glasses.