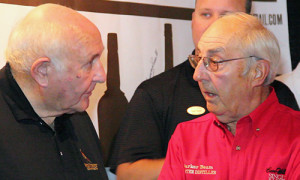 July 15, 2013 – Kentucky's Bourbon distillers may compete with each other to see who can sell the most whiskey, but when a member of the family needs help, they all come together in a spirit of brotherhood. Now, seven of the Commonwealth's largest distilleries have agreed to blend their whiskies together to create 12 special bottles of Bourbon to raise money for Parker Beam's Promise of Hope Fund.
Earlier this year, the longtime master distiller for Heaven Hill was diagnosed with ALS (also known as Lou Gehrig's Disease), and Heaven Hill created the Promise of Hope Fund to benefit the ALS Association. The company plans to donate $20 from each bottle of the upcoming Parker's Heritage Collection annual release, and several of Heaven Hill's regional distributors have pledged to match the donations in hopes of raising more than $250,000.
Now, the Lexington Herald-Leader reports that Parker's colleagues have agreed to create Master Distillers' Unity, which will blend whiskies from Four Roses, Woodford Reserve, Buffalo Trace, Maker's Mark, Wild Turkey, and Jim Beam together with whiskey selected by Parker from Heaven Hill's stocks. Two bottles will be sold at the Bonhams auction in New York City on Sunday, October 13, with all proceeds to go to the Promise of Hope Fund. The bottles will be sold together, so that the winning bidder can keep one and drink one. The remaining ten bottles of Master Distillers' Unity will be opened earlier that weekend during a special tribute and toast to Parker Beam On October 12 during WhiskyFest New York.
In addition to the distillers, Saxco Industries, Walsen International, and Promotional Wood Products have donated the custom packages and bottles for Master Distillers' Unity, and Bonhams will waive all commissions on the two bottles to be auctioned. This ensures that all proceeds from Master Distillers' Unity will go to the Promise of Hope Fund.
Heaven Hill has not officially released details on this year's Parker's Heritage Collection whiskey yet, but the Herald-Leader reports it will be a 10-year-old whiskey to be named Promise of Hope and bottled at 48% ABV. More details on the Heritage Collection release will be posted as they become available.