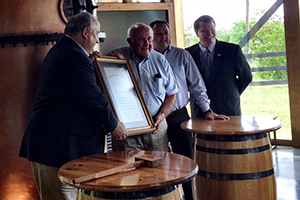 September 2, 2014 – Not much happens around Wild Turkey Distillery without longtime Master Distiller Jimmy Russell knowing about it, but his friends and colleagues managed to surprise the 79-year-old "Buddha of Bourbon" with a special luncheon at the distillery's visitors center today. Russell was honored with a lifetime honorary membership in the Kentucky Distillers Association, becoming only the sixth person to receive such an honor. The KDA had already inducted Russell into the Kentucky Bourbon Hall of Fame as part of its initial class in 2001.
"If there was a Mount Rushmore of Bourbon, Jimmy Russell would be one of the first faces on it," KDA President Eric Gregory said in a news release. "We are proud that he joins this elite group and welcome his continued service to the KDA, to our timeless craft and to our beloved Commonwealth." Russell has been active as a KDA director for the last 36 years, and currently serves as Wild Turkey's alternate director on the board.  The previous lifetime membership recipients include James Bigstaff O'Rear of Schenley Distilleries (1965), Charles King McClure of Stitzel-Weller Distillery (1968), Dr. Frank Kraus of Barton and Jim Beam (1979), T. William (Bill) Samuels Sr. of Maker's Mark (1982) and Bill Samuels Jr. of Maker's Mark (2011).
Wild Turkey has been celebrating Russell's 60th anniversary at the distillery with a number of special events in recent months. Today's luncheon also featured the premiere of a 15-minute documentary film honoring Russell.
Last month, Wild Turkey released a limited edition Diamond Anniversary Bourbon created by Eddie Russell, Jimmy's son and Wild Turkey's Associate Master Distiller.