January 29, 2015 – With interest in Bourbon-related tourism at an all-time high, Kentucky distillers are reporting another double-digit increase in visitors during 2014. The Kentucky Distillers Association reported today that 723,503 guests visited the 18 participating distilleries on the Kentucky Bourbon Trail and the Kentucky Bourbon Trail Craft Tour in 2014. The results continue a five-year tourism boom that has seen a 62% increase in visitor traffic over the period, according to KDA President Eric Gregory. "Some of our distilleries are up 200% in attendance over the last five years, which is great news for local communities that are reaping the tourism benefits," Gregory said in a news release. "And that best news is that we keep adding more and more distilleries."
Nine sites currently make up the Kentucky Bourbon Trail following the 2014 addition of the Bulleit Frontier Whiskey Experience at Stitzel-Weller Distillery in Louisville. The Trail is expected to add a 10th site during 2015 when the Jim Beam Urban Stillhouse opens in downtown Louisville's Fourth Street Live entertainment district. The Trail includes all of Kentucky's major distilleries, with the exception of Sazerac-owned Buffalo Trace in Frankfort and the 1792 Barton Distillery in Bardstown.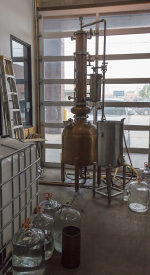 In its second year of operation, the Kentucky Bourbon Trail Craft Tour featuring nine craft distilleries recorded a 56% increase in visitor traffic with 96,471 guests. Corsair Artisan Distillery in Bowling Green, Silver Trail Distillery in Hardin, and Wilderness Trace Distillery in Danville all doubled their visits during 2013, while the other six distilleries all reported double-digit increases. The Craft Tour also added a new site during 2014 when New Riff Distillery in the Cincinnati suburb of Newport joined the group. Adam Johnson of the KDA, who oversees the Bourbon Trail and the Craft Tour, noted in the news release that there is a waiting list for new distilleries to join the tour.
In the past ten years, every one of Kentucky's major distilleries has either expanded existing visitor attractions or built new ones to capitalize on the growth in Bourbon-related tourism. A recent study by the University of Louisville's Urban Studies Institute for the KDA estimated that Bourbon Trail tourism accounts for at least $7.5 million in economic impact on the state each year.
Links: Kentucky Bourbon Trail | Kentucky Distillers Association