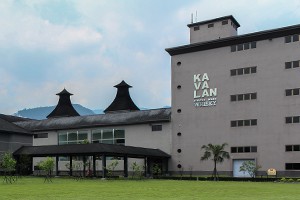 March 19, 2015 – For the second consecutive year, a "world" whisky has taken top honors as the "World's Best Single Malt" in Whisky Magazine's annual World Whiskies Awards. Kavalan's Solist Vinho Barrique single malt from the King Car Distillery in Taiwan was picked over single malts from Scotland and around the world in blind judging. Last year, Sullivan's Cove French Oak from Australia took the prize, and repeated for the third consecutive year as the best Australian single malt.
Thomas H. Handy Sazerac Rye was named the World's Best American Whiskey, defeating Pappy Van Winkle Family Reserve 20-year-old and other American whiskies announced as winners during last month's Whiskies & Spirits Conference in New York City. Batch #1 of That Boutique-y Whisky Company's Blended Scotch Whisky was named the World's Best Blended Whisky, while Nikka's Taketsuru Pure Malt 17-year-old was named World's Best Blended Malt.
Here is a list of regional winners:
Single Malts
Best Lowland Single Malt: Highland Harvest Sauternes Wood
Best Highland Single Malt: Glenmorangie 18YO
Best Campbeltown Single Malt: Longrow 11YO
Best Speyside Single Malt: BenRiach 16
Best Islands Single Malt: Ledaig 10 YO
Best Islay Single Malt: Ardbeg Kildalton
Best Asian Single Malt: Kavalan Solist Vinho Barrique
Best African Single Malt: Three Ships 10YO (James Sedgwick Distillery)
Best American Single Malt: Balcones #1 Texas Single Malt
Best Irish Single Malt: Teeling Whiskey Single Malt
Best Australian Single Malt: Sullivan's Cove French Oak
Best European Single Malt: Mackmyra Iskristall
Best Japanese Single Malt: Suntory Yamazaki 18 YO
Blends
Best Blended Scotch Whisky: That Boutique-y Whisky Company Batch #1
Best Japanese Blend: Suntory Hibiki 12 YO
Best Irish Blend: Tullamore D.E.W Phoenix
Best European Blend: Black Mountain Whisky Selection #1
Best African Blend: Three Ships Bourbon Cask Finish
Best Scotch Blended Malt: Wemyss Velvet Fig
Best Japanese Blended Malt: Nikka Taketsuru Pure Malt 17 YO
Grain Whiskies
World's Best Grain Whisky and Best European Grain: North British 18 YO Oloroso Cask Finish
Best Japanese Grain: The Fuji Gotemba Distillery Blender's Choice Single Grain Whisky (Kirin)
Other Categories
World's Best Pot Still Whiskey: Redbreast 15 YO
World's Best Flavored Whisky: Master of Malt 40 YO Speyside Whisky Liqueur
World's Best Canadian Whisky: Forty Creek Confederation Oak
The awards were presented at a ceremony in London on the eve of Whisky Live London, along with the global Icons of Whisky Awards and the final inductees in the Whisky Magazine Hall of Fame's Class of 2015. Diageo master blender Dr. Jim Beveridge, longtime Suntory chief blender Seiichi Koshimizu, and Australian whisky pioneer Bill Lark round out the Class of 2015. Michael Urquhart, Colin Ross, Bill Samuels, Jr., Al Young, and Steve Beal were inducted at ceremonies earlier this year.
Editor's note: This story was updated with additional winners not announced on Whisky Magazine's live Twitter feed from the ceremony.
Links: Whisky Magazine