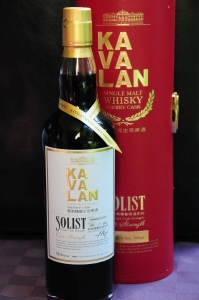 December 18, 2016 – For the third consecutive year, a whisky from Taiwan's Kavalan Distillery has taken overall top honors in the Malt Maniacs Awards, while the distillery claimed six of the eleven gold medals awarded in the annual competition.  The "Supreme Champion" was a Kavalan single cask bottling entered by Taiwan's "Drink Fun", and narrowly edged out a second Kavalan single cask bottling for Taipei's Red on Tree. Both whiskies earned an average score of 91 after blind tastings by the eight-judge panel, with the Drink Fun bottling scoring slightly higher on decimal points.
While the overall total of eleven gold medals may seem small compared to other competitions, it is actually the largest number of gold medals awarded in the 13 years of the Malt Maniacs Awards. "I was absolutely astonished at the overall high quality that we got from all the entries," said competition coordinator Keith Wood, noting that the eight judges awarded 267 gold medal-level scores to whiskies entered in the competition. For a whisky to earn a gold medal, the average score from all eight judges must be at least 90 points or higher. Whiskies earning average scores of between 85 and 89 points receive silver medals, while those earning average scores between 80 and 84 points receive bronze medals. In addition to the six Kavalan gold medal winners, two whiskies from GlenDronach won gold medals along with whiskies from Chieftain's, Amrut, and Adelphi. The competition is open to retailers, whisky clubs, and bottlers of single casks along with distilleries, though each entrant is limited to a maximum of three entries per distillery.
Listen to Mark Gillespie's interview with Malt Maniacs Keith Wood and Patrick Brossard:

While the overall winners were dominated by whiskies from Taiwan and Scotland, Swiss judge Patrick Brossard noted the emergence of high-quality entries from so-called "world whisky" entrants. "Millstone (from Zuidam Distillery in Holland) was for me a revelation in terms of quality," Brossard said. Millstone bottlings of whiskies distilled in 1998 and 1996 won silver medals, while a younger Millstone won a bronze medal. Brossard also cited the first American single malt whisky to win a medal in many years, a Westland single malt bottled for La Maison du Whisky in Paris that received a silver medal. "The quality of this American single malt was quite impressive…quite different from what I was used to, though, because it had a smoother, rounder profile, but we see that the quality behind it is very high," he said.
In addition to the overall medals, the judges also present awards in categories for "Daily Drams" generally priced at €50 ($52 USD) or lower, "Premium" whiskies priced between €51 and €150 ($156 USD), and "Ultra Premium" whiskies priced above €150. In the "Daily Drams" category, Zuidam's peated 2013 Millstone single malt took "Best Peated Whisky" honors, while another peated Islay malt, the Port Askaig 1o0 Proof from Speciality Drinks, received the "Thumbs Up" award reserved for whiskies that deserve special recognition.
However, those awards were dominated by yet another Taiwanese distillery, the Nantou Distillery owned by the Taiwanese government's state tobacco and liquor producer. Three different Nantou Omar bottlings won the "Supreme Winner" for best daily dram, along with "Best Sherried Whisky" and "Best Natural Casks" for whiskies not matured in ex-Sherry casks or using cask finishes. "Their mission is to produce good quality products at sensible prices, typically for the working people, and my goodness, are they really doing this," Wood said. The distillery started making whisky in 2008, and began exporting its single malts to Europe for the first time this year.
The Malt Maniacs Awards began in 2003, and the Maniacs is an invitation-only group of amateur whisky lovers from around the world, along with a number of "professional" members who write about whisky as a career. The judging panel is drawn from the group's amateur ranks, and each judge receives only a set of numbered samples for blind tasting with no communication allowed between judges until after the results are compiled and released. A complete list of medal and award winners is available at the Malt Maniacs web site, along with a breakdown of scores from each individual judge.
Editor's note: WhiskyCast's Mark Gillespie has been a member of the Malt Maniacs since 2008, but as a working whisky journalist, does not take part as a judge in the Malt Maniacs Awards. 
Links: Malt Maniacs Awards