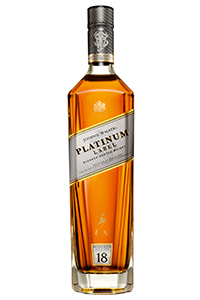 August 19, 2013 – After months of being a "forbidden fruit" to American whisky lovers, Johnnie Walker Platinum Label is being released in the U.S. market this month. The new blended Scotch was released in many markets around the world in late 2012, but was only available in the U.S. through a limited number of travel retail outlets.
While technically not a replacement for the Green Label blended malt, which was discontinued in almost all markets worldwide during 2012, Platinum Label fills a void in the Johnnie Walker range between the new Gold Label Reserve (still not available yet in the U.S. while stocks of the original 18-year-old Gold Label are being depleted) and the top-of-the-line Johnnie Walker Blue Label. The new 18-year-old blend was created by Master Blender Jim Beveridge based on the Walker family's practice of creating custom blends for private gatherings, and uses whiskies from 20 to 25 distilleries. By comparison, Johnnie Walker Black Label uses whiskies from more than 40 different distilleries within Scotland.
Platinum Label will be available in the U.S. in 750ml bottles for a suggested retail price of $110. For Mark Gillespie's tasting notes, click here.
Links: Johnnie Walker