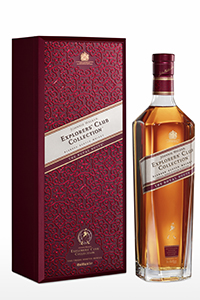 October 18, 2013 – Johnnie Walker has released the third and final edition in its Explorers Club series of travel retail expressions, with The Royal Route now becoming available in duty-free shops globally. The new expression is named after the famed trading routes of Europe and the Middle East, and completes the Trade Routes series in the Explorers' Club Collection.
In a news release, Johnnie Walker master blender Jim Beveridge described the complexity of The Royal Route:
"We sought out only the very finest, beautifully balanced blends that have deep evocative flavours and a character to match. On the nose, there is a vast array of rich fruity flavours including apple, pear, fig and peach. Reflective of the beauty, rarity and exotic nature of the luxury goods that were exchanged on the royal trade route, it has an intense and complex flavour with notes of dried fruit and toffee, handsomely balanced with a subtle woody sweetness and a lingering wispy aromatic smoke. The Royal Route delivers far more depth of character, with richer, multiple layers on the palate."
The Trade Routes series began in December of 2012 with the release of The Spice Road, and was followed in March with The Gold Route. All three expressions are available in one-liter bottles, with a recommended retail price of $159 for The Royal Route.
In addition, Diageo announced plans to release Johnnie Walker Gold Label Reserve in the US as a limited edition for the holiday season. The expression has been available in other global markets, but has not been sold in the US while stocks of the original Gold Label 18-year-old expression are being depleted. Gold Label Reserve is blended in a similar style to the original version, but carries no age statement.
Links: Johnnie Walker