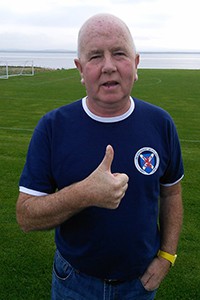 March 28, 2016 – John MacLellan, widely regarded as one of the leaders of the Islay whisky community, passed away Sunday at his home near Port Charlotte following a battle with cancer.
He spent nearly half his life working at Islay's distilleries, first at Bunnahabhain where he started out in 1989 and eventually became distillery manager. In 2010, he made the sudden decision to move to Kilchoman as general manager, and was responsible for creating all of the whiskies released by the island's youngest distillery from 2010 until his death. In a 2011 WhiskyCast interview, he described the joy in making the move to what was then regarded as an upstart distillery.
"For us as a family, it's exciting…we're Islay people, and it's exciting to be in with Kilchoman and actually trying to make a real contribution and put our mark on something, so for us, it's fantastic."
In a post on his Facebook page Monday evening, John's wife Lindy, his daughter Rosie and son Sandy passed along a message to his friends throughout the whisky industry:
"Thank you all for your kind thoughts. Please raise a glass to John and keep him in your hearts, as we will in ours."
John was a native of Islay, born in Port Charlotte on June 11, 1955, and was considered to be one of the nicest people in the whisky industry – always with a smile no matter the circumstances. In December, Kilchoman auctioned the very first bottle of its 10-year-old single malt from the first cask filled when the distillery opened in 2005 to raise money for the Beatson Cancer Charity in John's honor. The winning bid was £7,000 ($9,975 USD) from an anonymous bidder, but contributions raised the total amount to £10,000 ($14,250 USD). The MacLellan family has established a fund in John's name at the Beatson Cancer Charity with a goal of raising an additional £5,000 to help provide care and support for other Scottish families facing cancer.
John MacLellan was 60 years old. A memorial service will be held at Kilchoman Distillery on Saturday.
Please join us in expressing our condolences to his family and many friends in the industry.
Editor's note: This story was updated with additional information.