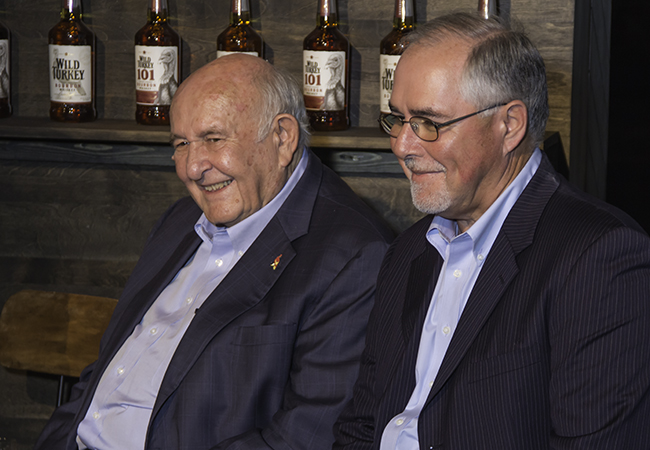 September 14, 2016 – In what may have been the most unsurprising "surprise" announcement out of Kentucky in many years, longtime Wild Turkey Master Distiller Jimmy Russell has been named as the second recipient of the Parker Beam Lifetime Achievement Award by the Kentucky Distillers Association and the Kentucky Bourbon Festival. The award was presented during today's Kentucky Bourbon Hall of Fame induction ceremony at My Old Kentucky Home State Park in Bardstown. Recipients are nominated from within the Kentucky Bourbon industry and selected by the association's board of directors.
We use the term "unsurprising" because when Parker Beam was presented the inaugural award that bears his name last year, his longtime friend Jimmy Russell was given the honor of presenting it. The two men were part of the Hall of Fame's inaugural class in 2001 and share a shelf full of other whiskey industry honors between them.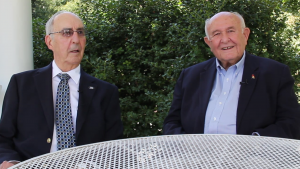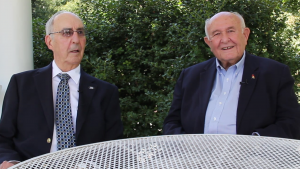 "Parker's a close friend of mine, and you know what kind of shape he's in…he was the first recipient of it…being the second and voted by your peers…it's a great honor for me," Russell said in an interview conducted before the official announcement. Parker Beam has been battling amyotrophic lateral sclerosis (ALS) for the last four years, and his health has forced him to step back from his work at Heaven Hill to assume the title of Master Distiller Emeritus. "Jimmy and I have known each other for over 50 years – I have nothing but respect and admiration for Jimmy and his family," Beam said in a news release. 
Russell has been a fixture at the Lawrenceburg, Kentucky distillery for 62 years, and now shares the title of Master Distiller with his son Eddie. In addition to his 2001 Hall of Fame induction, Russell was named an Honorary Life Board Member of the Kentucky Distillers Association in 2014.
In addition to the Parker Beam Lifetime Achievement Award, four members of the Class of 2016 were inducted into the Hall of Fame.
Bill Street, former president of Brown-Forman
John Rhea, recently retired Chief Operating Officer of Four Roses
Joy Perrine, award-winning Louisville bartender and author
Barry Becton, senior director of state government affairs for Diageo North America
The Kentucky Bourbon Hall of Fame was created in 2001 by the KDA and the Kentucky Bourbon Festival. Inductees are nominated by the KDA, its member distilleries, and the Bourbon Festival board in four categories: Industry, Journalism, Roll of Honor, and Lifetime Achievement, with the final selections made by the KDA board of directors. The Hall of Fame inductees appear in a special exhibit on permanent display at the Oscar Getz Museum of Bourbon History in Bardstown.
Links: Kentucky Bourbon Hall of Fame | Kentucky Bourbon Festival