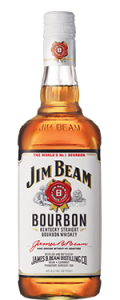 August 25, 2015 – If two rulings are a trend, then three might be enough to set a precedent…so to speak. Lawyers for Beam Suntory have won their third and final bid to dismiss class-action lawsuits over labeling claims on two of the company's Bourbon brands. San Diego U.S. District Court Judge Larry Alan Burns dismissed a lawsuit filed in February over the "handcrafted" language used on Jim Beam labels on the grounds that a reasonable consumer would not assume the term meant no machinery was involved in the whiskey's production. Beam Suntory spokesman Clarkson Hine praised the ruling, noting that "we are pleased with this swift and decisive victory, which ends the last remaining lawsuit against the labeling of our bourbon brands."
Burns cited similar opinions issued earlier this year by federal judges in dismissing class-action lawsuits against Beam Suntory over the use of the word "handmade" on Maker's Mark labels. The most recent dismissal also came from the U.S. District Court for the Southern District of California, and was issued last month by one of Judge Burns' colleagues. In his order dismissing the lawsuit, Burns rejected plaintiff Scott Welk's argument that machinery could not be used in producing a "handcrafted" Bourbon.
"Welk's proposed definition of the word "handcrafted" doesn't fit the process of making bourbon. To make bourbon, grains are ground into "mash" and cooked; then yeast is added, and the mixture ferments; then the mixture is distilled, i.e., heated until the alcohol turns to vapor; then the alcohol is cooled until it returns to liquid form, and transferred to barrels for aging. Fermentation, distillation, and aging are necessary to meet the legal definition of bourbon. Machines, including stills and other equipment, have always been necessary to make bourbon."
The Jim Beam lawsuit was filed by the Kazerouni Law Group, the same California class-action law firm that filed the unsuccessful Maker's Mark lawsuit last December. Abbas Kazerounian, the firm's lead attorney in both cases, responded to the ruling in an email Wednesday. "We are obviously disappointed with the ruling but we have great respect for Judge Burns. Currently we are analyzing Judge Burns' decision and discussing options with our client," he said. 
Editor's note: This story was updated with a response to the ruling from the plaintiff's attorney, Abbas Kazerounian.  
Links: Jim Beam | Beam Suntory | Kazerouni Law Group