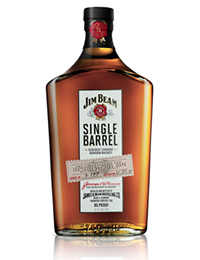 December 18, 2013 – Jim Beam has a lot of different Bourbon variations, but there's always been one thing missing from the lineup…until now. Starting in March, there will be a single barrel version of Jim Beam available for the first time. The launch follows on the success of Knob Creek's single barrel version introduced several years ago.
Jim Beam Single Barrel will be bottled at 47.5% ABV (95 Proof), and carry a recommended retail price of $34.99 (750ml). In an interview with WhiskyCast's Mark Gillespie, Beam's Fred Noe said the single barrel version will be aged longer — between 5 and 7 years, and bottled at a higher proof than the regular Jim Beam White Bourbon.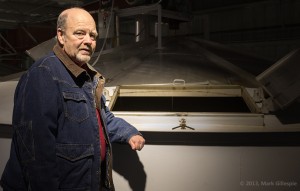 "We're picking barrels from the outer edges of the rack house," Noe said. "The regular Jim Beam, we do a vertical cross-section from high, middle, and low-storage barrels…when we do these single barrel selections, we're picking barrels from higher storage areas and lower, then bottling them from those areas. You're getting some variation, and that's the key, you know, getting a little bit of variation with Single Barrel."
In addition, visitors to the Jim Beam American Stillhouse in Clermont, Kentucky will be able to hand-fill their own bottle starting in February, with sales of full barrels expected to begin by the end of 2014. Noe said barrel customers will be able to sample and select their own barrel, which will be bottled for them at the distillery. The Stillhouse has offered hand-bottling of Knob Creek for almost a year, but this will be the first time that visitors have been able to fill a bottle of Jim Beam at the distillery.
Links: Jim Beam