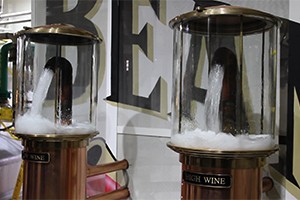 February 21, 2015 – A California law firm is doubling down in its legal fight against Beam Suntory over claims that two of the company's Bourbons are "hand-made." Costa Mesa-based Kazerouni Law Group has filed a class-action lawsuit in US District Court in San Diego on behalf of a consumer who claims he was misled by the "hand-crafted" label on Jim Beam Bourbon. The lawsuit seeks to include all California consumers who purchased Jim Beam over the previous four years, and asks for at least five million dollars in damages in addition to legal fees.
Kazerouni Law Group filed a similar suit against Beam Suntory-owned Maker's Mark in December on the same grounds. Both lawsuits accuse the whisky brands of violating California state laws on false advertising and unfair competition, and allege that consumers paid more for the two whiskies than they would have because of the labels' claims that they were hand-made. Both suits rely on images, video, and documents from the brands' web sites showing the various steps in the distilling process.
Lawyers for Beam Suntory have already filed a motion seeking to dismiss the lawsuit against Maker's Mark. The company issued a statement after the suit against Jim Beam to the Lexington Herald-Leader that nearly matches the one provided to WhiskyCast in December following the Maker's Mark lawsuit word for word:
"This claim is frivolous. We will defend our case vigorously and we are confident that we will prevail. Beyond that, as a matter of company policy, we don't comment on the details of matters in litigation."
No hearing date has been set, and lawyers for Beam Suntory have not yet filed their response to the second lawsuit. This story will be updated as more information becomes available.
Editor's note: Court filings in civil cases present only one side of a story, and any claims made in a filing are not proven as factual until subject to cross-examination and rebuttal during a trial. A complete copy of this lawsuit is available to review at the WhiskyCast web site.