May 2, 2016 – Jim Beam has around two million barrels of whiskey maturing in its warehouses around Kentucky, but one barrel filled today at the Jim Beam Distillery in Clermont, Kentucky, will never be emptied – no matter how good the whiskey inside it turns out to be. The barrel is the 14 millionth barrel of spirit to be filled at Beam's distilleries in Kentucky since Col. Jim Beam opened the Clermont distillery shortly after the end of Prohibition in 1933.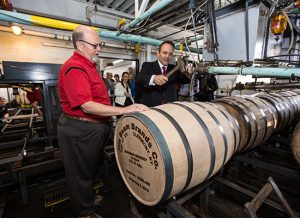 Kentucky Governor Matt Bevin and seventh-generation master distiller Fred Noe filled the barrel, while the first-term governor hammered in the bung to seal it. The barrel will be stored in Beam's Rackhouse D, which is open to visitors who tour the Jim Beam American Stillhouse visitors center at the distillery.
"This milestone is cause for celebration both for our employees and bourbon fans around the globe. Fourteen million is a big number, and it says a lot about the success of our whiskey and the growing passion for bourbon around the world," Fred Noe said in a news release. The 14 million figure represents all of Beam's Bourbon production at Clermont, the Booker Noe Distillery in Boston, Kentucky, and Beam's former distilleries around Kentucky, such as the Old Crow Distillery in Woodford County. It does not include production at Beam Suntory's Maker's Mark Distillery in Loretto, Kentucky, according to Beam Suntory spokesman Dan Cohen. 
The milestone comes just two years after Beam filled its 13 millionth barrel, and represents the boom in bourbon production in recent years as sales have taken off globally. By way of comparison, Beam's barrel number 8,000,000 was filled in 1998, and it took four years to reach the 9 million milestone. While most other Kentucky distillers do not release lifetime barrel production numbers, Heaven Hill filled its 7 millionth barrel of whiskey in February of 2015 and is working toward the 8 million mark.
Editor's note: This story was updated to include additional details on the distilleries involved in producing the 14 million barrels since 1933. 
Links: Jim Beam