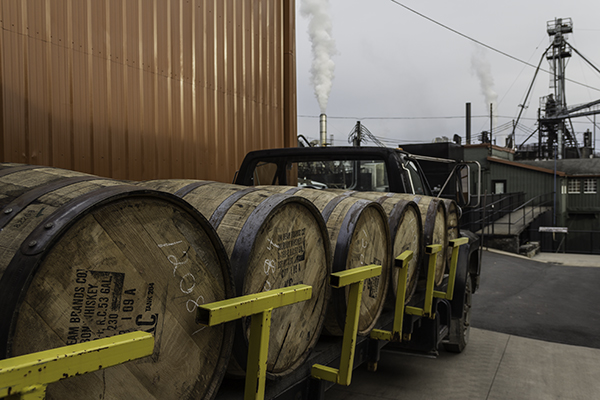 Updated October 14, 2016 – Negotiations aimed at preventing a strike by workers at two Jim Beam distilleries in Kentucky are underway today as a midnight deadline approaches. Beam Suntory executives and United Food and Commercial Workers Local 111D leaders are meeting in an attempt to reach an agreement, according to a union executive. Tuesday, Local 111D members voted 201-19 to reject the company's contract offer, citing an "atmosphere lacking respect" for workers at two Jim Beam distilleries in Kentucky as one of their main reasons for voting to go on strike when their current contract expires at midnight tonight.
The local represents production workers at the Jim Beam Distillery in Clermont and the Booker Noe Distillery in Boston, Kentucky, and reached a tentative agreement with Beam Suntory with the help of a federal mediator after more than a month of negotiations.
In a statement provided to WhiskyCast by the UFCW's international office in Washington Thursday, Local 111D president Janelle Mudd said her bargaining team had already agreed to extend the current contract offer three times before taking an agreement to rank and file members for a vote.
"The recommendation of the negotiating committee to bring the offer to a vote was based on its determination that it was the best that the company was willing to offer. While it included some economic gains, issues such as job security given the number and use of temporary agency workers, the honoring of seniority, open-ended contract language, and an atmosphere lacking respect for the incredible value brought by hard-working union employees drove the vote total."
The Clermont distillery is Beam's flagship distillery and home to the Jim Beam American Stillhouse visitors center, which attracts thousands of tourists every year. Local 111D represents the distillery's production workers, including those who lead tour groups through the micro-distillery adjacent to the main distillery. It does not represent workers in the American Stillhouse visitors center.
Beam Suntory's vice president of Kentucky Beam Bourbon Affairs, Kevin Smith, released this statement late Tuesday after the results of the vote were announced.
"We value the positive relationship we have with our UFCW associates at our Clermont and Boston facilities, and we have worked constructively with their negotiating committee and a federal mediator to develop a very attractive new contract over 33 days of bargaining. We are seeking to understand the reasons why the union membership voted down this competitive two-year contract proposal unanimously recommended by their own representatives. The proposal includes substantial wage increases, coupled with other enhancements including elimination of the two-tiered wage system for almost all employees.
While we have not been advised of any specific objections to the proposal, we are committed to resolving this matter expeditiously. We greatly value our teams at these facilities, and we look forward to working with the union leadership to help ensure a full understanding of the proposal by the union membership. Ultimately, we hope the employees will reconsider and support this agreement.
As the current contract extends through Friday, we anticipate business as usual tomorrow at our facilities."
Beam Suntory executives have declined to comment beyond Smith's statement, which did not address whether the company has contingency plans to keep the Clermont distillery operating in a strike. While Jim Beam does operate other bottling plants in Kentucky, the Clermont distillery also has bottling operations that would be affected by a walkout. It is not clear whether UFCW-represented workers at Beam's other Kentucky facilities would honor the strike, nor whether the American Stillhouse would remain open during a strike.
This story will be updated as new details become available.
Editor's note: This story was updated with details on Friday's resumption of negotiations. 
Links: Jim Beam | United Food & Commercial Workers