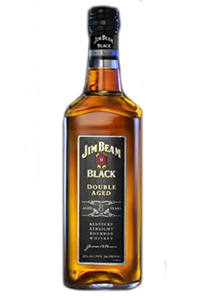 September 8, 2014 – Jim Beam will be removing the age statement from its 8-year-old Jim Beam Black Bourbon soon. Beam spokesman Dan Cohen confirmed the move in an email to WhiskyCast's Mark Gillespie this weekend, but declined to provide a reason for the change or more details on the move.
Until the 2013 introduction of Jim Beam Signature Craft 12-year-0ld Bourbon, Jim Beam Black was the oldest expression sold under the Jim Beam label. Beam has called the whiskey "double aged" because it is matured twice as long as the four years for the flagship Jim Beam White  Label Bourbon. However, the age statement has only appeared on US bottlings of Jim Beam Black, while export versions do not carry an age statement and are believed to be around six years old. It is not known whether the new US version of Jim Beam Black will be consistent with the export versions, or what other changes may be in store for the expression.
This story will be updated as more details become available.
Links: Jim Beam